Evaluating Coaching
"A Guide to Exploring Your Career in Coaching."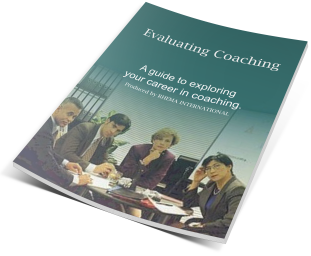 Here you receive 150 pages packed with information and resources you should know about before you make any coaching career decisions. This guide will save you many hours of research, help you avoid some common mistakes, and provide you with helpful answers that will support you in making an informed decision about the life coach profession.
Evaluating Coaching – "A guide to exploring your career in coaching." will cut through the clutter of information, assisting you to find the best strategies for achieving what you want. People pay hundreds, even thousands of dollars for life coach training – explore your options before you make any decisions.
Written in an easy-read PDF format, you to easily adjust the text size to what is most comfortable for you. Here are some of the important pieces of information that you will find in this valuable guide:
You will explore the following:
Learn what coaching actually is and what it is not;
Discover what the life coach actually does;
Find what types of individuals become a coach;
Determine what experience you need to become a coach;
Evaluate your own coaching abilities;
Establish if 'official training' is actually necessary to perform coaching;
Know your 'Coaching Specialty' options;
Begin thinking about what your coaching niche might be;
Explore the issue of accreditation;
Learn about low-cost coaching tools.
You will also receive important business information:
How to start your own coaching business with little or no money;
How to set up your practice;
Links to business plans and tools;
How to set up your office;
Available software to run your business smoothly;
Legal issues;
Learn about liability insurance;
How to price your coaching services;
Locate your prospective clients;
Tips to ensure an easy process for getting paid;
Put together proposals for companies and corporate clients.
You will discover:
Effective marketing procedures;
Put together a thorough information package;
Public speaking and seminar opportunities;
Tips on how to advertise with little cost to you;
Take advantage of free publicity;
What to offer clients to receive referrals.
Gain an understanding of multi-income streams through coaching:
Producing your own books, e-books, articles and tapes;
Writing your own newsletter;
Learning how to become an authority in your area of coaching;
e-coaching, teleclasses and laser coaching.
You even receive the following working samples:
Questions to ask potential and current clients;
Example of the intake form;
Example of working forms;

AND SO MUCH MORE!
The Evaluating Coaching – "A guide to exploring your career in coaching." gives you all the information you need to make an informed decision regarding becoming a professional life coach before you spend one dime on training. If after you have pondered all of your various training options you subsequently enroll in Express Coaching™, we will be happy to refund you the cost of this e-book.
Traditionally, we have sold hundreds of this popular ebook for $24.95 USD. Today it is yours for the asking!
Ordering is fast, easy – and for your enjoyment. This e-book has been created in PDF format which means you can view it in any convenient size font on your computer screen or print your own hard-copy.
This ebook is a available for immediate download.
Begin reading this valuable tool right in just a few short minutes from now!
After pondering all of your various training options, should you subsequently enroll in Express Coaching™, we will be happy to offer you 15% tuition discount on any of our ICF approved coaching program that you choose to attend.
If you have specific questions about our programming or about coaching in general, please contact:
Dr. Randin Brons / Chief Learning Officer
1-800-925-7116 Ext. 2
Evaluating Coaching – "A guide to exploring your career in coaching."