Business of Coaching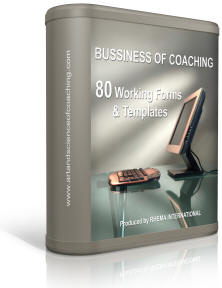 A MUST HAVE!
The most comprehensive collection of forms and templates available to assist you in running your business.
This tool is easily re-branded with your logo and business information.
For both the veteran and the newcomer to the business of Coaching, there is one overwhelming truth … finding the various forms and documents necessary to run your business is often-times a daunting prospect.
BUSINESS OF COACHING is the most comprehensive library of business document templates for the working Life coach available today. With this collection we bring together the expertise of management consultants and the efficiency of an executive secretary.
This is the ONLY solution you need to facilitate your day-to-day planning and ALL of your various documentation. Save valuable time, money and effort, and start concentrating on the core activities that impact your bottom line – coaching your clients!
You receive

80 office-ready documents

in Word and Excel format;
Because your documents are created in Microsoft Word and Excel, you can choose text, line-styles and boarders so you can create just the right look for your forms;
Easily add your company logo to any of the forms in just seconds – no more generic forms;
Improve your communications and overall productivity;
Change the look of any form in 5-minutes;
No artistic skill required. You can easily align and arrange forms that look great;
AND SO MUCH MORE!
The BUSINESS OF COACHING gives you dozens of ready-made forms that you can print and use as they are – or – the ability to tailor the templates to make them your own! These are the same forms used by our students and graduates as they ready for working in the "real-world of coaching."
Forms and templates are in Word Document and Excel format and completely customizable to your needs!
Here is just some of the forms you receive in this ONE OF A KIND package:
Coaching Assessment Form
Coaching Agreement
Client Session Prep Form
First Coaching Session Questions
Statement of Services
Client Promise Log
Coach-able Index Form
Coaching Evaluations
Session Recap Sheet
Daily Planner
Progress Report
Invoices (session and hourly)
Credit Card Authorization form
Five-year projection Form
Calendars
Fax Cover Sheet
Memo Templates
Price List Template
Client Retention Sheet
Newsletter Templates
Weekly Cash Flow Sheet
Presentation Evaluation
Project Planner
Project Task Assignment
Client Survey Form
AND SO MUCH MORE!
The bottom line is this … you cannot purchase THE BUSINESS OF COACHING products anywhere else!
You receive 'instant access' to 80 Working Forms and Templates in this package for less than $2.00 each!
These tools are easily re-branded with your logo and business information.
PAY ONLY
$137.00 USD
Save your time, and put your energy where it should be … on your clients.
You simply can't afford to miss out!
Yes! I want to take advantage of this amazing offer and order the entire collection of Power Coaching Products at the incredibly low price of $137.00 USD. I understand that I will receive instant access to all my products immediately after I make payment. *This product is received via automatic download upon completing your purchase. No refunds permitted.