Master SPIRIT LIFE Coach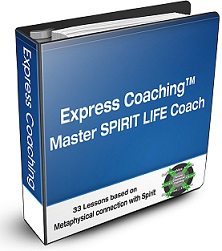 The Master SPIRIT LIFE Coach program lessons are an elective add-on to our Certified LIFE Coach Certification program.
Accreditation: Core Training (Certified LIFE Coach) is Approved Coach Specific Training through the International Coach Federation. The Master SPIRIT LIFE Coach additional training is accredited through the Certified Coaches Alliance.
Recommended for individuals with a particular interest in the human connection to 'Spirit' and/or the 'laws of Spiritual nature.' This course is a eight (8) month accelerated program.
You begin your training by completing the Certified LIFE Coach program or 'core training' as part of this program. You will attend 24 independent, stand-alone modules are delivered over 24-weeks. Upon graduation and official certification as an International coach in good standing you will continue to the next phase of learning. ICF strongly recommends that you complete an ICF accredited coach training program before beginning your practice. Express Coaching™ training will prepare you for the rewards and challenges of the coaching profession.
Success Conversion Coaching program is one of only 41 programs worldwide that has achieved the prestigious designation of Accredited Coach Training Program. International Coach Federation (ICF) accredited programs are continuously reviewed to demonstrate their commitment to the highest standards. They are evaluated for excellence in curricula, core competencies, faculty, structure, proficiency, and ethics to support the highest quality in the training of coaches. In completing the Success Conversion Coaching ICF approved program, you are fulfilling many of the requirements for ICF's Professional Certified coach credential.

Then, as a student of the Master SPIRIT LIFE Coach program, you will continue your learning experience with 33 additional lessons specific to 'the human connection with Spirit' through fundamental "metaphysical principles and practices" using the SIX PILLARS of SPIRITUAL Self-Enquiry to pin-point client issues and/or concerns. Accredited through the CCA, Students are given 2-months to complete and submit the Master SPIRIT LIFE Coach lessons.
How you will benefit from Core Training:
You will learn the 11 'Core Competencies' as follows:
– Meeting Ethical Guidelines and Professional Standards
– Establishing the Coaching Agreement
– Establishing Trust and Intimacy with the Client
– Coaching Presence
– Active Listening
– Powerful Questioning
– Direct Communication
– Creating Awareness
– Designing Actions
– Planning and Goal Setting
– Managing Progress and Accountability
Work with an effective 'Coaching Model;'
You will learn the fundamental elements of running a successful Coaching career;
Be prepared with training in Coaching Through Career Transitions, Emotional Intelligence and Coaching to Wellness;
Business development – learn how to build your successful Coaching business faster than you ever thought possible;
Our exclusive "Become the Expert" series goes beyond just building a coaching practice, it shows you how any entrepreneur can become an expert within the coaching market of your choosing;
To further ensure your business success we have maintained our relationship with ASC based out of Campbellsville, KY. USA to provide you with a full 6-month Membership to assist you in developing a clear and precise vision for your coaching practice by following a simple, powerful, direct plan of action. A $749.00 USD value.
A wonderful support staff;
AND SO MUCH MORE!
How you will benefit from the Master SPIRIT LIFE Coach Lessons:
Develop a deeper understanding of your connection with "Spirit" through the Metaphysical;
Discover the Drivers that pull your client forward;
Learn to use the SIX PILLARS of SPIRITUAL Self-Enquiry to pin-point client issues and/or concerns;
Understand the difference between what the client says that they want and what he/she really wants;
Enhanced exercises to remove spiritual blocks, release outdated beliefs and restore spiritual health;
Explore the powers of visualization and affirmations;
Operate under the 'spiritual laws of attraction;'
AND SO MUCH MORE!
Program Delivery and Completion:
Our Certified Life Coach training is provided via teleconferencing. Alternatively, students may apply to learn via pre-recorded lecture download should you have a difficult time schedule to manage or if you find that the time-shift from your geographical area makes LIVE teleconference attendance impossible. The spiritual lessons are provided for home-study through PDF. This is an accelerated program; students are evaluated through mandatory written assignments and final exam which the student must receive 80% or greater to pass. The course time-line is eight (8) months to completion.
Exclusive distance learning is available for this course at the same cost of tuition. ICF program guidelines state that non-live interactive training does not earn accreditation. Therefore distance education is accredited through the Certified Coaches Alliance only.
What is included in your course?
Your course includes everything you need to complete your Certification, with a guarantee of no hidden extra costs for your entire program. Programs are complimented by a complete library of working forms, worksheets, planning formats and additional study materials. You will be lead by an outstanding team of professionals who will provide all the support and assistance you may need to ensure your success. The question is … are you ready?
All course materials, working forms, additional reading are included. Our online Student Area allows for easy download of all your program materials.
Tuition: $2,297.00 USD inclusive OR
Other tuition payment options available.

Don't let your financial situation dictate your Future. A limited number of scholarships are available.
Request information.
Express Coaching™ reserves the right to change, alter and or discontinue programming at any time. Course fees and prices may be subject to change without notice. Promotions are time-limited becoming null and void after expiration. Promotional offers may not be used in conjunction with any other offer.