Certified Life Coach
ICF Approved learning hours through the International Coach Federation, this is an accelerated program delivered via teleconference classes and online work. Our aim is to keep the class numbers small so that everyone has the opportunity to receive the personal attention deserved.
Our Certification is based upon the eleven (11) Core Coaching Competencies and Ethical Standards as identified by world-wide coaching associations such as the International Coach Federation and others. Express Coaching™ weaves together the components of coaching while assisting you in developing a greater self-awareness and confidence so that coaching becomes part of who you are. This course is fully complimented with working forms, worksheets, planning formats and additional reading. ICF strongly recommends that you complete an ICF accredited or approved coach training program before beginning your practice. Express Coaching™ training will prepare you for the rewards and challenges of the coaching profession.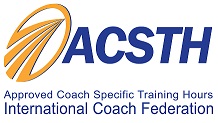 The Success Conversion Coaching program carries with it the designation of Sixty Approved Coach Specific Training Hour through the International Coach Federation. ICF approved programs are continuously reviewed to demonstrate their commitment to the highest standards. Each is evaluated for excellence in curricula, core competencies, faculty, structure, proficiency, and ethics to support the highest quality in the training of coaches. In completing the Success Conversion Coaching program, you are fulfilling many of the requirements for ICF's ACC credential.
The Certified LIFE Coach program contains 24 independent, stand-alone modules delivered over 24-weeks. To ensure your success, we provide you with a complete "Turn-key" coaching system.
Our Success Conversion Coaching Model (SCCM) provides you with:
A model of effective coach/client relationship;
An effectual client enrollment strategy;
Coaching session outline guide (you'll know exactly what to say and you'll learn quickly!);
Attend weekly LIVE interactive teleconference calls that include break-out sessions with partners and small groups during many of the calls;
Peer Partnership: Through student-partnership you become both peer coach and peer client;
Observed-Coaching Sessions and discussions to keep you on track;
Affirmation Frame recordings (subliminal recordings to enhance and support your client's learning experience);
Our exclusive business development focus goes beyond just building a coaching practice,we'll show you how any entrepreneur can become an expert within the coaching market of your choosing;
This is not the average coaching program.
We offer you a coaching career strategy.
To further ensure your business success, during your training we you will receive an exclusive Membership to ASC based out of Campbellsville, KY. USA. Through this unique program you will develop a clear and precise vision for your coaching business by following a simple, powerful, direct plan of action. A $749.00 USD value.
We provide you with all of the working knowledge necessary to effectively coach your clients.
Our training is your private arsenal to leaving the program with your certification in-hand and to coach a broad client-base.
How you will benefit form our program:
You will learn the 'Core Competencies' as defined by the International Coach Federation:
– Meeting Ethical Guidelines and Professional Standards
– Establishing the Coaching Agreement
– Establishing Trust and Intimacy with the Client
– Coaching Presence
– Active Listening
– Powerful Questioning
– Direct Communication
– Creating Awareness
– Designing Actions
– Planning and Goal Setting
– Managing Progress and Accountability
Work with an effective 'Coaching Model;'
Learn the fundamental elements of running a successful coaching career;
Business development – learn how to build your successful coaching business faster than you ever thought possible;
Marketing – discover the secrets to marketing your business without having to 'sell' it;
Convenient morning and evening teleclasses that fit into anyone's most demanding schedule;
A wonderful support staff;
AND SO MUCH MORE!
Program Delivery and Completion:
Our Certified Life Coach training is provided via teleconferencing (morning and evening teleclasses are offered). Alternatively, students may apply to learn via prerecorded lecture download should you have a difficult time schedule to manage or if you find that the time-shift from your geographical area makes LIVE teleconference attendance impossible. Students are evaluated through mandatory Achievement Challenges and final exam which the student must receive 80% or greater to fulfill the program objectives. The program time-line is six (6) months to completion.
Exclusive distance only learning (no interaction with the trainer), is available for this course at the same cost of tuition. ICF program guidelines state, however, that non-live interactive training does not earn accredited learning-hours. Therefore distance education holds accredited learning-hours through the Certified Coaches Alliance only.
What is included with your course?
Your course includes everything you need to complete your Certification, with a guarantee of no hidden extra costs for your entire program. Programs are complimented by a complete library of working forms, worksheets, planning formats and additional study materials. You will be lead by an outstanding team of professionals who will provide all the support and assistance you may need to ensure your success. The question is … are you ready?
*Our online Student Area allows for easy download of all your program materials.
Are there any costs to International Certification?
Our graduate's International Coach Certification is awarded through the Certified Coaches Alliance (CCA), who actively maintains the International Coach Certification of our graduates. In existence since 2004, the CCA is well respected Internationally for their professional standards and profile. A coaches alignment to a body that provides a cohesive "Code of Standards and Ethics" is imperative to the success of any coach within today's marketplace. No longer are prospects and potential employers asking only if a coach has been certified, they are also inquiring if a coach is aligned with an organization that upholds a professional "Code of Standards and Ethics." For most organizations who would hire a coach, this is mandated. The cost of affiliation upon graduate is $54.00 USD for each 2-years.
Program Authenticity –
Don't be fooled by counterfeit programming. A school of coach training may host the ICF membership logo, however, being a member of the ICF does not mean that the program has been reviewed by the ICF rigorous standards or that it has been approved. Please follow the steps below.
Success Conversion Coaching Programs are approved coach training units through the International Coach Federation (ICF) and presented in partnership with Rhema International Training Group Inc. You may view the ICF approval by visiting Find a Training Program typing Express Coaching into the Training Organization search box.

Don't let your financial situation dictate your future. A limited number of scholarships are available.
Request information.
Express Coaching™ reserves the right to change, alter and or discontinue programming at any time. Course fees and prices may be subject to change without notice. Promotions are time-limited becoming null and void after expiration. Promotional offers may not be used in conjunction with any other offer.