Personal Accelerated Coach Practitioner Training
Finally, a "turnkey" coaching model that will get you on your way FAST!
Approved Coach Specific Training Hours (ACSTH), through the International Coach Federation (ICF), are based on the coaching core competencies as identified by the ICF. The Certified Coach Practitioner Program inspires, trains and certifies motivated individuals with the highest quality materials to provide the finest in life coaching through the use of our easy to learn, yet highly effective system of results-driven coaching.
Success Conversion Coaching Model delivers the most complete and effective method of helping your clients achieve their dreams. Whether your focus will be providing the finest in life coaching to individuals, businesses, corporations or non-profit organizations, you will acquire the utmost confidence, the complete knowledge, and the proven tools to succeed. Begin a new and exciting career path or add coaching to your already existing services.
*This 2-part program qualifies for ICF Continuing Coaching Education Units.
Secure your training early to avoid disappointment.
Getting the right training is your first step to success!
Tuition $599.00 USD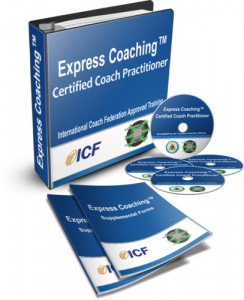 This is an accelerated ICF approved program delivered via teleconference over two days. Our aim is to meet the increasing need for 1-on-1 training. Students has the opportunity to receive the personal attention he or she deserves throughout the 2-day training.
The Certified Coach Practitioner program includes everything you need to complete your Certification, with a guarantee of no hidden extra costs while complimented by a complete set of working forms, worksheets and MP3 recordings.
Your training is lead exclusively by Dr. Randin Brons, Chief Learning Officer of Express Coaching who will provide you with all the support and assistance you may need to ensure your success. For convenience, all course materials are provided by download so you won't be waiting for anything to arrive at your door.
This is not the average coach 2-day training program.
We offer you a complete coaching career strategy.
When you choose to attend training provided through Express Coaching™ you can be assured you will receive the complete training necessary to open your own professional coaching practice with the full support of our professional staff to help you achieve your goals. You will receive either a 6-month or a 2-month FREE Membership to ASC – based out of Campbellsville, Kentucky, USD a 28-segment program assisting you in developing a clear and precise vision for your coaching practice by following a simple, powerful, direct plan of action. A $374.50 USD value (for six-months at the regular membership fee).
Certification Program Overview
*Regular long distance charges apply to attend this teleconference certification program.

What you will learn:
You will learn the fundamentals of coaching
Introduction and Background of Coaching
Structure & Process / Four Stages of Coaching
Skill Building – Listening and Giving Supportive Feedback
Understanding the Way Your Client Sees The World
Understanding Your Client's Personal Perspective
Our unique Enrollment Strategy
The SCC-Coaching Model of the coaching discussion
The Coaching Agreement
The importance of being perceived as "the expert."
Conclusion and Q & A
Successful life coaching is all about using the right coaching model that asks the right questions. It's about helping your clients to define what their goals are and how to best achieve them. It's about listening, understanding and helping your clients to identify and prioritize the appropriate actions needed to succeed. Coaching is about helping clients to clearly articulate their desires and remain accountable to meeting their objectives.
As a graduate of the Success Conversion Coaching Certified Coach Practitioner Program, you'll know exactly what questions to ask to guide and motivate your clients to a higher level of success and a richer more fulfilling life. There is no guessing because the entire coaching format is written out for you. Study it tonight – coach tomorrow. Then, with just a little ongoing practice, you'll soon be ready to begin attracting clients and growing your coaching business.
The Certified Practitioner Program is now open for 1-on-1 Registration.
Tuition $599.00 USD
Do you have questions? We're here to help.
Please call Dr. Randin Brons, Chief Learning Officer at 1-800-925-7116 Ext. 2.
Program Authenticity –
Don't be fooled by counterfeit programming. A school of coach training may host the ICF membership logo, however, being a member of the ICF does not mean that the program has been reviewed by the ICF rigorous standards or that it has been approved. Please follow the steps below.
Success Conversion Coaching Programs are approved coach training units through the International Coach Federation (ICF) and presented in partnership with Rhema International Training Group Inc. You may view the ICF approval by visiting Find a Training Program on the ICF Website and typing Rhema International into the Training Organization search box.
Express Coaching™ reserves the right to change, alter and or discontinue programming at any time. Course fees and prices may be subject to change without notice. Promotions are time-limited becoming null and void after expiration. Promotional offers may not be used in conjunction with any other offer.